Happy Early
St Patrick's day
! By now, all the green beer has hit the pubs and McDonald's have
Shamrock'd their McShakes
. Some cities will have dyed the water in their pretty fountains a
leprechaun
green, and others will have green sparkly hats on their citizens. heck, you can even buy Irish shirts in the likes of Walmart and Target.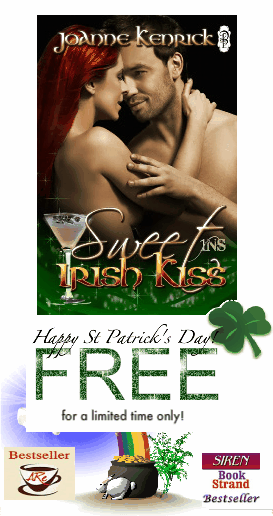 I'm throwing on my green and joining in on the Shamrock celebrations. Any excuse for a party and a sexy Irish barman pouring me a tasty treat...talking of which. Thanks to Decadent Publishing, EVERYONE GETS A FREE DIGITAL DOWNLOAD of my ARe and Bookstrand bestseller, SWEET IRISH KISS! WOOT
"
Your Panties will be bunching and you will be sitting on the edge of your chair to wait and see what goodies Shaun has packed in his overnight bag ** grins **"

-- Kat, Pageflipperz
read more for an excerpt
SO....You've got yourself a FREE ebook. Now what? Now you can comment on this blog post to enter to win the hop's awesome grand prizes. YES YOU HEARD ME RIGHT. There are grand prizes...and how grand they are! WOOT
Grand Prize 1: Winner's Choice of a Kindle Fire or Nook Tablet
Grand Prize 2: Winner's Choice of a $90 Amazon or Barnes&Noble Gift Card
How do you get entered to win? Comment on as MANY blogs in the hop as possible, hosted by Carrie Ann Ryan. Mine included :) Scroll down for the links and comment form.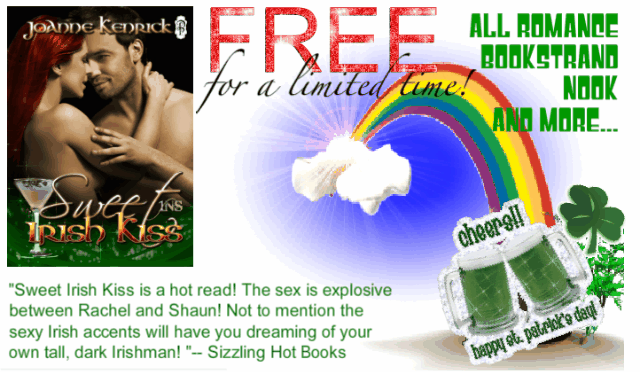 Book Trailer Full Screen| Book Trailer Playlist
"Ms. Kenrick's writing style flows nicely throughout the story. Her attention stays more on the characters rather than the setting which is fitting for the genre of the novella. I like her ability to dig deep within the characters feelings allowing them to step up and tell their story. It is as if the author really took the back seat on this one. Very well written indeed! JoAnne Kenrick knows how to write unique, if not quirky, characters that stay with me long after I've finished reading their stories."

-- Talina, Night Owl Reviews
HERE'S A LIST OF ALL PARTICIPATING BLOGS...GO A HOPPING if you WANNA GO A WINNING! AND DON'T FORGET TO LEAVE A COMMENT HERE for an entry into the grand prize contest! Tell me...what do you plan on doing to celebrating green day?
Contest ends at 11:59 PM EST.